It's that time of year again! The gifts are bought, the holiday has been celebrated, and you think you're done until next December. But you're catching a dirty look from your significant other, and with a sinking feeling, you realize that the salt-and-pepper shaker set that when put together looks like an avocado was not really what they had in mind.
Never fear! The Boards and Bees Post-Holiday Gift Guide is here! Beginning in 2013, the Post-Holiday Gift Guide was originally a response to all the other gift guides out there that led up to Christmas, but left you hanging once the holidays were over. Previous lists have covered such diverse topics as:
This year, the Boards and Bees Travel Agency is here to help you make up for your glaring error in picking a truly terrible gift for someone you love. There's no better way to say you're sorry than to pretend that their gift all along was a vacation to some exotic location, and a board game to match!
For history buffs, the seven wonders of the ancient world are the ultimate travel destination! The Great Pyramids of Giza, the Hanging Gardens of Babylon, the Colossus of Rhodes, the Temple of Artemis, the Lighthouse of Alexandria, the Statue of Zeus at Olympia, and the Mausoleum at Halicarnassus should be on any traveler's itinerary. Unfortunately, due to circumstances beyond our control, the Great Pyramids of Giza is the only wonder still intact today, but never fear! As soon as we get this time travel thing figured out, you'll be able to visit all seven in their prime! Until then, you can supplement your journey with 7 Wonders, the 2010 game from designer Antoine Bauza and published by Repos Productions. This classic drafting game will help you to build your own wonders as you try to outwit your opponents, all from the comfort of your own home! It's almost as good as the real thing!
If you're keen on visiting Bavaria, you really must see the castles designed by King Ludwig II. Ludwig was King of Bavaria from 1864 to his death in 1886, and is well known for commissioning elaborate castles. The most famous of these is Neuschwanstein Castle, which was the inspiration for the Sleeping Beauty Castle in Disneyland. Construction on Neuschwanstein began in in 1869, but the castle was never fully completed due to Ludwig's death. With this package, you'll be able to visit these, as well as some other Ludwigian designs such as Schloss Linderhof (completed in 1878), Herrenchiemsee (never completed), and Berg Castle (Ludwig's last residence for which he had a tower constructed). Castles of Mad King Ludwig is a 2014 game designed by Ted Alspach and published by Bézier Games, and gives you the experience of designing your own elaborate castles for fame and fortune (and points). As an added bonus, if anyone manages to get their plans approved by the German government, you'll be able to build your own ridiculously elaborate castles on the Bavarian landscape (building funds not included in this travel package).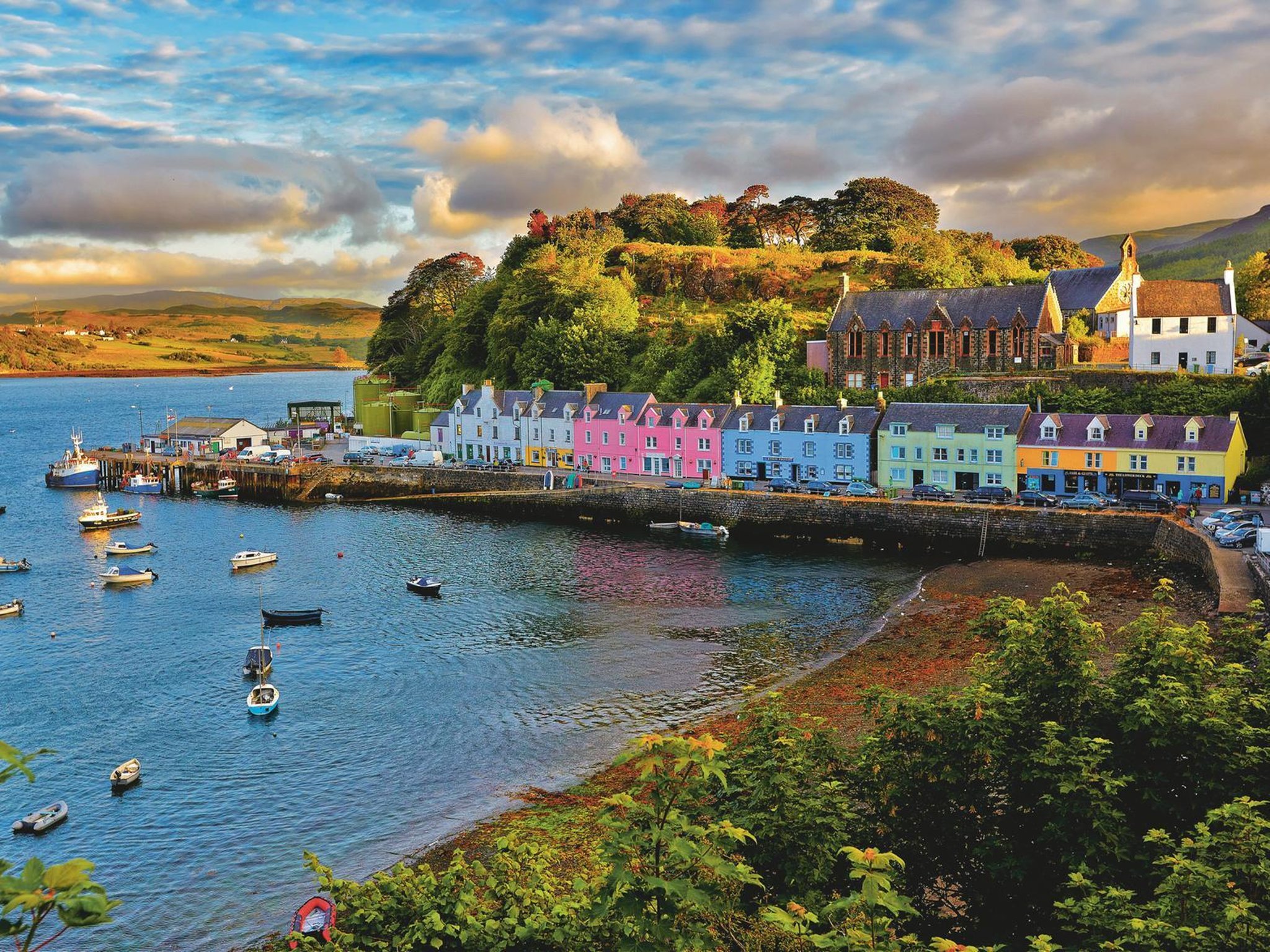 The Isle of Skye is the second largest island in Scotland, at 60 miles long and with a total area of 639 square miles. The island is well known for its breathtaking scenery and medieval castles. It's been used as the setting for films and TV shows, including Stardust, The BFG, and Game of Thrones. The island is made up of a series of peninsulas and bays, The island has quite a history, with archaeological discoveries dating back to the 7th millennium BC. Needless to say, there's plenty to do on the Isle of Skye, but if you're looking for more, there's always the board game appropriately called Isle of Skye. This 2015 Kennerspiel des Jahres winner from designers Andreas Pelikan and Alexander Pfister, published by Lookout Games, has players building their own version of the picturesque island, placing tiles and trying to score points based on variable scoring conditions. Please note that the government of the Isle of Skye frowns upon people trying to carve up square portions of land and place them wherever they want, so do not reenact the game while on your trip.
Jaipur is the capital of the Indian state of Rajasthan, and the tenth most populous city in the country. It is known as the Pink City as that is the dominant color scheme of most of its buildings. Jaipur is a popular tourist destination, forming one point of the so-called Golden Triangle (along with Delhi and Agra). Popular spots to visit include the City Palace, the Hawa Mahal (shown above), the Amber Fort, the Albert Hall Museum, the Monkey Temple/Galta Ji, the Jal Mahal, and the numerous markets and bazaars where you can buy all kinds of souvenirs. One of these markets is the setting for Jaipur, the 2009 game by designer Sébastien Pauchon and most recently printed by Space Cowboys. In Jaipur, two players are vying to become the best merchant by trading goods to acquire others that can be sold for a tidy profit. You're welcome to try the same thing at one of the Jaipur markets, but we take no responsibility for your inevitable failure.
The island nation of Jamaica is located in the Caribbean Sea, and is the third largest English-speaking nation in the Americas. The country hosts approximately 4.3 million tourists per year, nearly 1.5 million more than the population of the island. Tourists are attracted to the island because of its beautiful beaches, its tropical client, and its robust culture. Music, art, dancing, and style are all very prominent hallmarks of the country. The island also has a rich history, dating back to the prehistoric era. The island was claimed for Spain when Christopher Columbus landed there in 1494, and later was captured by the British in 1660. When the Spanish tried to recapture Jamaica, the British began employing pirates to attack Spanish ships. The pirates later got kind of out of control, and that's the subject of the 2007 game Jamaica, designed by Malcolm Braff, Bruno Cathala, and Sébastien Pauchon, published by GameWorks (and most recently by Space Cowboys). In the board game, you are playing pirates racing around the island, picking up booty and power along the way. Piracy is, of course, strictly prohibited under current Jamaican law.
The city of Tokyo, Japan is one of the most modern cities in the world, and it's also the largest. With a metropolitan population of over 37 million people, it beats New York (#44) by nearly 30 million people. It's a cultural hub of Japan, with festivals, museums, performing arts, and very bright and colorful lights. Is it any wonder that it's a frequent target for monsters? We've all seen the documentaries of how giant kaiju like Godzilla, King Kong, Mothra, King Ghidora, and Mechagodzilla have laid waste to this thriving metropolis (25 times at the most recent count). And yet, they keep rebuilding. Now, you can not only visit the city and possible witness one of these giant monster attacks first hand, but you can play the game based on these disasters! King of Tokyo, a 2011 game from designer Richard Garfield and published by IELLO, puts you in a giant rubber suit of your own to simulate the process of trying to attack and destroy Tokyo (as well as your opponents). Please note: even though the city has proved to be very resilient over the years, don't try to attack on your own. Their military is very highly trained at this point, they won't take kindly to your efforts.
La Sagrada Familia is a basilica in Barcelona, Spain. The church was designed by renowned Catalan architect Antoni Gaudi in the late 19th century, At the time of his death in 1926, it was approximately 20% complete. The original plan was to complete construction on the church in 2026, but that is likely to be postponed (stupid pandemic). The basilica itself was consecrated by Pope Benedict XVI in 2010, and holds services every Sunday. The architecture of the building is stunning, as is the art. Especially notable are the bright and colorful stained glass windows that brighten up the interior considerably. As you enjoy the colors, you can also enjoy the challenge of building stained glass windows out of dice with Sagrada, the 2017 game designed by Adrian Adamescu and Daryl Andrews, and published by Floodgate Games. Roll the dice, put them out into pleasing (and hopefully point scoring) patterns, and win! Play it on the floor of the church, I'm sure no one will mind.
Off the coast of Greece, in the Aegean Sea, sits an island officially called Thera, but commonly called Santorini. The island was shaped by volcanic eruptions that have been recorded throughout history, the largest of which was around 1600 BC. The island is well known for its whitewashed buildings (so painted to help reflect the heat and keep the buildings from getting too hot) and blue roofs. These colors were made mandatory when a military government came into power in 1967. But they're very iconic, and the 2016 game Santorini (designed by Gordon Hamilton and published by Roxley Games) is a testament to that. In the game, you're trying to build up those blue and white buildings, and more importantly, to get your figure to the third floor of one of them. The game also features some intervention from various Greek gods and goddesses, which makes for a pretty fun experience. Something to play as you enjoy that lovely Meditteranean air.
Sedlec Ossuary, in the Czech Republic, has a very interesting history. In the 13th century, Abbott Henry returned from a pilgrimage to the Holy Land and spread some dirt he had collected over the cemetery by Sedlec Abbey. Of course, now everyone wanted to be buried there, and when the Black Plague hit a century later, everyone was. This caused a severe overcrowding problem, and many bones were moved to the ossuary by a half-blind monk in the 16th century. At some point, someone decided that the bones needed to be arranged artistically, as seen above. It's kind of a morbid place that attracts over 200,000 visitors a year. And now, you can be one of them! Be sure to take along a copy of Skulls of Sedlec, a 2020 game from designer Dustin Dobson and published by Button Shy Games. It's an 18 card game where you get to arrange your own pile of skulls, scoring points for having certain arrangements. Please note, however, that selfies are banned in Sedlec Ossuary, so it will be tough to get a picture of the game in play to submit to our website.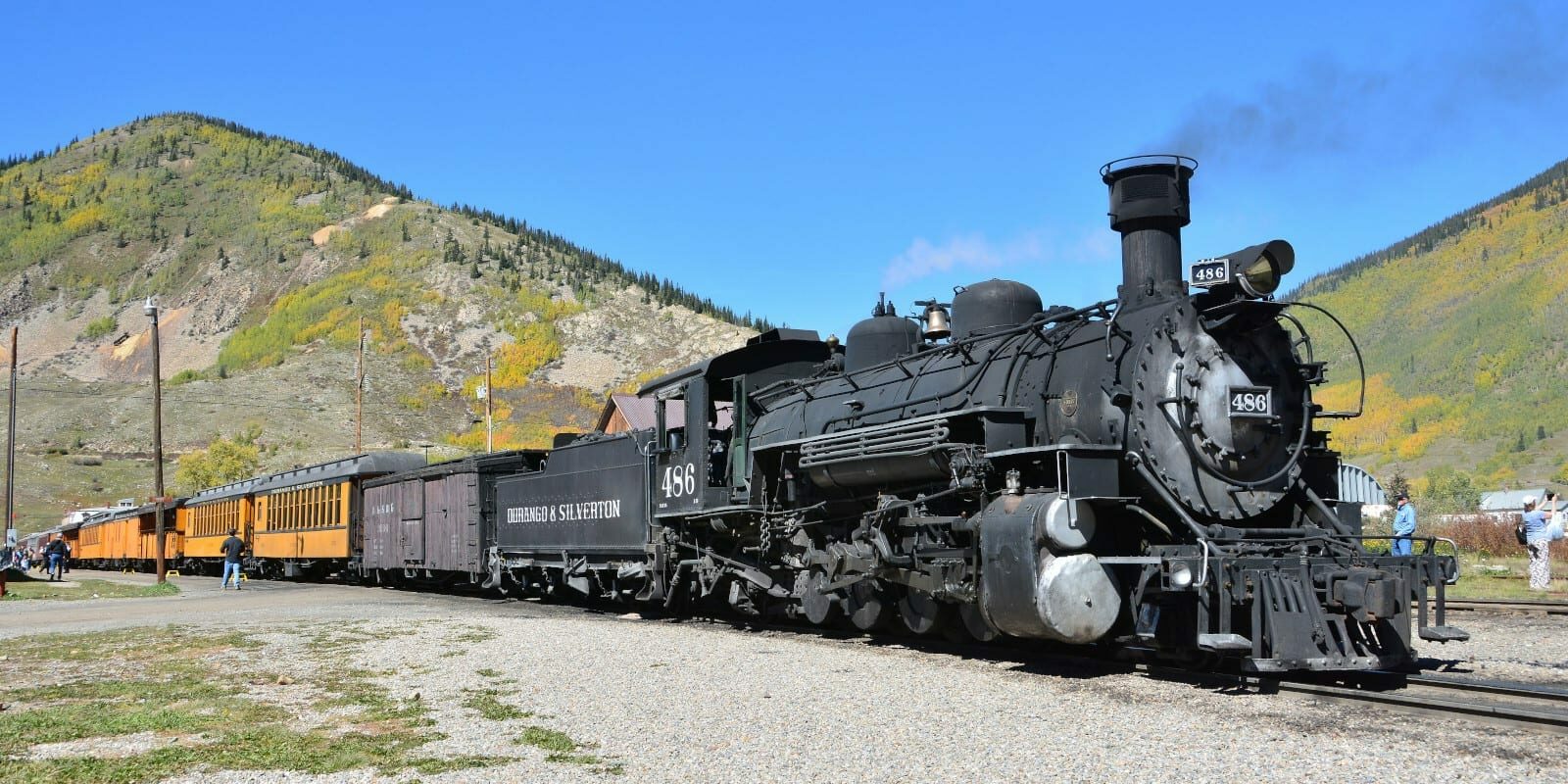 Everyone likes trains, right? So why not take a trip on some of historic railroads that defined the development of the United States? Ride cross country and witness the splendor and majesty of the American countryside! We also offer packages where you can ride across Europe, Germany, Scandinavia, Switzerland, New York City, Asia, India, Africa, The Netherlands, the United Kingdom, France, Japan, and more! Our "Ticket to Ride" package is based on the popular board game series designed by Alan R. Moon and published by Days of Wonder. Beginning in 2004, the games in this series have you placing trains, claiming routes, and completing tickets that connect cities to one another. We hear it's also the name of a popular song by some obscure band that was mildly popular back in the 60s, but our legal department isn't worried at all about that.
Back in the 17th century, if you wanted to get from Edo (modern day Tokyo) to Kyoto, you needed to travel the Tōkaidō, which roughly translaes to Eastern Sea Road. Along the way, you'd probably see samurai, merchants, and various officials walking the route. You'd also get to stop at various shrines, temples, and inns, as well as other points of interest to enjoy the beautiful Japanese scenery. Unfortunately, much of the actual Tōkaidō has been turned into highway, but parts still exist, and you can still travel the general route from beginning to end if you want. You can also play the game Tokaido, designed by Antoine Bauza and published in 2012 by Funforge. In this game, you are a traveler along the Tōkaidō, making various stops along the way to collect those sweet sweet victory points. It's a very peaceful game, and a great way to simulate the real thing.
---
Whichever package you choose, we here at the Boards and Bees Travel Agency are sure you'll have a great time. Thanks for reading (and for sticking with me through this weird year), and I'll see you soon for my annual Spiel des Jesse award.